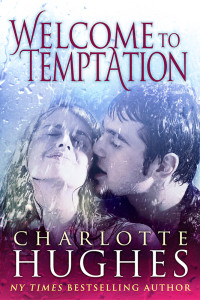 Just released, a romance eBook exclusive to Amazon.  (Print books are available everywhere). Charlotte's latest indie published romance is Welcome to Temptation. Buy now by clicking here.
Reckless, bad boy Cajun . . .

With a hurricane closing in on Temptation, Louisiana, Michelle Thurston fails to convince her stubborn grandmother to leave her home on the bayou. Sheriff Gator Landry arrives by boat, hell-bent on forcing the elderly recluse to evacuate. He is stunned to find Michelle, who was just 16 years old when he courted her one steamy summer.
Now, at 32, Michelle comes face-to-face with the man whose kisses tempted her to lose control, only this time there is no place to run. Although Gator is not about to leave the two women defenseless, Michelle can't help but wonder if he is more dangerous to her than anything the storm can do.
Charlotte Hughes is planning a brief blog tour on the 20th in support of Welcome to Temptation. Many of you probably remember that Charlotte was one of the first romance authors to do a virtual book tour, and she has not done any tours in a while. Watch this blog for more details about the Welcome to Temptation tour which will be at about 25 sites and it will be held on May 20th.
Tags: Bayou, contemporary romance, Louisiana, romance, romance book, romance novel, romantic comedy