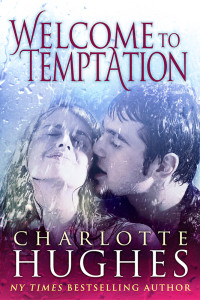 Here is an excerpt from the just released Welcome to Temptation available in eBook format exclusively at Amazon, and in print almost everywhere. Click here to buy it:
"We need to get out of these wet things," Michelle said, crossing her arms in front of her in an attempt to hide herself. She shivered as Gator continued to stare. He still had the power to make her body go berserk when he looked at her that way. Those glittering black eyes didn't miss a thing. It was as though he were capable of seeing past flesh and bone to her inner workings, all of which shook at the moment as violently as the tree limbs outside the window. She was certain he knew what that look did to her—what it did to every female, for that matter. He had it down to an art. And if it had had a powerful effect on her at sixteen, it was doubly so now at thirty-two.
"That's the best idea I've heard all day," Gator said, shrugging out of his shirt. It was cold and felt like wet seaweed against his skin. He mopped his brow and chest with it and ran it across the back of his neck.
Michelle wondered if he had any idea how sen­sual that simple act was. He was all rippling mus­cles and taut flesh. Goose pimples stood out on his shoulders and his nipples puckered from the chill in the room. His arms were lean and as brown as the rest of him. The room seemed to shrink to the size of a shoe box. Michelle had seen enough male bodies in her job to know that the one before her was one of the best she'd ever laid eyes on.
Gator would have had to be blind not to notice her perusal. The grin he shot her was brazen. "Like what you see, Mic?"
Michelle's head snapped up with a force that almost sent her reeling. Her face flamed. "I was just . . . just . . ."
"Staring?" He looked faintly amused.
He was laughing at her, she thought angrily. She fought the urge to race out of the room. "Don't flatter yourself," she said tersely.
"I don't have to, pretty lady. You just gave me the biggest compliment I've had in a long time, whether you know it or not."
"You haven't changed at all, Gator Landry. I would have thought by now somebody would've knocked some manners into that thick skull of yours."
"And you haven't changed much yourself," he said. "You've still got the prettiest green eyes I've ever seen. Not to mention the cutest rear end. I'd say you have improved with age." He slung his damp shirt around his neck and stepped closer. "So you're a nurse now. I remember the first time you told me you wanted to go into nursing. Do you?"
Michelle fought the urge to back away from him. To do so would have been cowardly, and she would sooner bite off her tongue than show Gator she was afraid of him. "How can I forget," she said. "You suggested we play doctor so I could practice on you."
He chuckled. "But you refused."
"That's because I knew what ailed you and didn't want any part of it."
"I think you did. Is that why you didn't return the following sum­mer like you promised?"
"Let's just say I came to my senses."
"You're still crazy about me, aren't you?" he teased.
She almost laughed, because at the moment it was just like old times, with Gator trying his darnedest to get a rise out of her and her tossing his words or innuendos right back in his face. Gator Landry had always been able to make her blush and feel things that other boys couldn't.
"Don't be ridiculous, Gator," she said. "I was only sixteen years old at the time. I'm twice that age now, and I hope I've got twice the knowledge I had back then when I acted on hormones instead of common sense. Besides, you weren't the first man to kiss me; nor the last."
He cocked his head to the side, as though pon­dering the thought. "Maybe not, but I'll bet I'm the one you remember best."