See Bride Run! Discounted from $5.99 to 2.99 for a limited time on Kindle starting Feb 2,2015. Buy it?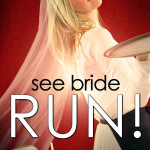 Pleading exhaustion to her current dance partner, Annie returned to the bar, only to find Darla and Hank missing. The bartender in overalls returned wearing a grin. "Some of your dance partners have taken a shine to you," he said.
"They want to buy you a drink. Several, in fact. What'll you have?"
"I don't want anything right now," Annie replied as politely as she could, considering her head felt as though it was ready to split open. "Would you happen to know where my friend went?"
"She left with that other feller. Said to tell you'd she'd be back in a jiffy."
"When you see her, would you please tell her I'm waiting for her in the car?"
"What do I look like, Western Union?"
"I'm sorry to impose—"
"I'm just havin' fun with you," he said, his chubby face breaking into a grin. "I'll tell her."
Annie made her way out the door, leaving a good por­tion of the noise inside. She passed a couple of men sitting on the
tailgate of a truck but pretended not to see them.
"Hey, baby, you lookin' for some comp'ny?"
"No thanks," she said, and kept on walking.
"Hey, that ain't no way to be," one of them said as he caught up with her. "What'd I ever do to you?"
"Please—" She stopped and turned. He was a beefy fellow but she wasn't sure if she should be scared or amused. He
spit a wad of chew­ing tobacco on the ground, and she shuddered. "I have a splitting headache, and I just want to be
alone," she said. She resumed walking. Where the hell had Darla parked?
"I got a headache powder in the truck."
Sure he did, Annie thought. And she had a hundred dollar bill in her pocket.
It finally hit her that Darla's car was missing, and the thought of being stranded at a place like Ernie's almost made her
weep. Why would Darla have left her? Espe­cially knowing she didn't have a dime to her name? She didn't even have
enough money to call anyone. Besides, who would she call?
"You can drink it down with a cold beer, and that headache'll be history."
Annie saw a car turn off the highway into the parking lot, and she prayed it was Darla's. She almost went weak with
relief when it turned out to be a Jeep driven by Sam Ballard. He pulled up beside her.
"Out slumming tonight, Annie?"
"I beg your pardon?"
"If you're looking for trouble, this is the place to find it." Sam slammed the Jeep into park and climbed out. Annie
noticed the stranger's friend had come up and both of them towered over Sam.
"I asked you what the hell you're doing and who these men are?" he almost shouted.
Annie's jaw dropped. "I don't have to take this—"
The man next to Annie nudged her. "Do you know this guy?"
"Yes, I—"
"I happen to be her husband," Sam said, his words clipped and precise. "She has a new baby at home wait­ing to be
nursed. She told me she was running to the store for disposable diapers."
"Oh, well—" The man looked from Sam to Annie and back to Sam. "Hey, man, we don't want to cause no trouble
between married folks. Me and my brother was just passing through town." He regarded Annie. "You should be home
with your kid, lady." He looked at the other man. "C'mon, let's get outta here."
Annie was glad it was dark and nobody could see the crimson color on her face. "That was despicable," she told Sam.
"Would you rather see me get beat up by the rhino brothers?" He didn't give her time to answer. "Where's Darla, and
what the hell are you doing in a dark parking lot with some men you don't know?"
"I don't know where Darla is, and I don't have to answer your questions."
"Great. Then I'll just leave you here to fend for your­self." He turned and climbed back inside the Jeep.
"Wait!" Annie hurried over. "Darla's car is gone. She took off with some guy named Hank."
"So you decided to wait for her in a parking lot filled with drunk rednecks and bikers. Great idea, Annie," he said,
sarcasm ringing loud in his voice. "Now I see why your father had to make your decisions." He regretted his choice of
words the min­ute they left his mouth, the very second he saw Annie's face fall. But, dammit, she could have gotten in
bad trouble there.
Sudden tears stung her eyes. "You can just go straight to hell for all I care." She started walking.
He pulled up beside her. "I'm sorry, Annie. That was a lousy thing for me to say. Get in the car, and I'll take you back
to Darla's."
"I'd rather walk."
"You can't walk. It's dangerous this time of night."
"I can take care of myself. Contrary to what you might think," she added angrily.
They had reached the highway. "I'll bet you don't even know how to get to Darla's trailer."
Annie wasn't listening. It had been such a miserable day, not to mention humiliating as hell, and her head felt as
though it would explode. She had spent the better part of the evening wondering what she was going to do with her life
and cursing the fact that she hadn't taken charge long ago. The last thing she needed was for Sam Ballard to show up
and rub her nose in it.
"Annie, I'm warning you, either get in the Jeep, or I'll person­ally put you in."
She kept walking.
Sam gunned his engine and parked a good distance ahead of her. He climbed out, then slammed the door so hard, his
Jeep rocked on its wheels. Teeth gritted, he closed the distance between him and Annie, then, with­out warning, hefted
her up and threw her over his shoul­der. She kicked and squealed like a stuck pig.
"Shut up, dammit!" he ordered. "Folks'll think I'm kidnapping you." She screamed louder, and he gave her a sound
whack on the behind.
Annie saw red. She kicked her legs and flailed her arms and finally grabbed a handful of his hair. Sam let a few
obscenities fly before he realized someone had pulled up behind them. He turned but was blinded by headlights. He
blinked several times before he realized it was the highway patrol.
"Dammit to hell, Annie, look, what you've done now." He heard the door open and close, was barely able to make out
the silhouette of a patrolman.
"What's going on here?" the uniformed man said.
Annie continued to pummel Sam in the back but glanced around at the sound of another's voice. "Oh, Officer, thank
God you're here. I'm being abducted."
"Abducted, huh?" The patrolman spit what looked like a wad of chewing tobacco on the ground, and Annie wondered if
everybody in Pinckney chewed it. "Well, we don't put up with the likes of that in Pinckney, Georgia ma'am." He reached
for his gun. "I reckon I don't have any choice but to shoot him."
 In disbelief, Annie watched the patrolman pull his gun out of the holster and aim it at Sam. She screamed. "No, wait!"
"Put her down, pal," the armed man said. "I'm warn­ing you, I got this sucker aimed right for your goozle."
Sam sighed heavily and dropped Annie to the ground. She landed in a heap.
"Now move away, lady, so I can finish him off."
"Officer, please let me explain," Annie cried, crawling along the gravel as fast as she could. She pulled herself up by the
man's pants leg. "He, uh, Mr. Ballard here, was only offering me a ride. I was lying about being abducted."
"He probably told you to say that, didn't he?" The patrolman pushed her aside. "You need to turn your head, miss. I've
done this sort of thing before, and it ain't a pretty sight."
"Oh, my God, no!" Annie threw herself in front of Sam, acting as a shield.
Sam stood there with his arms crossed over his chest, the lines in his face tense, as if holding himself in check while
Annie sobbed and carried on like a character in a bad soap opera. "Okay, Buster, you've had your fun. I'd like to go
home now."
The other man chuckled and stuck his revolver back in its holster. "Listen, Sambo, you're going to have to learn to start
charming the ladies a little better. You can't just throw a woman over your shoulder like a sack of taters and haul her
off. You have to buy them flowers and candy and—" He paused and looked around as though wanting to make sure they
weren't overheard. "You might have to write a few lines of poetry. It don't matter if it don't rhyme."
Annie's head swiveled from side to side. "Excuse me, but do you two know each other?"
Sam looked at her. "This is Johnny Ballard, my cousin. Folks call him Buster. He's a real prankster."
"So all this was just a big joke at my expense," she said. She glared at Sam. "You let me grovel and beg for your life like
some idiot nutcase. How dare you!"
A car screeched to a halt, and Darla jumped out and came running. She looked panicked. "What's wrong? Is somebody
hurt?"
"Well, now, ain't you a sight for sore eyes," Buster said. "Why don't you and me go for a spin in my patrol car. I'll even
let you play with my siren."
"Annie, what's going on?" Darla asked.
Annie tried to explain everything that had happened since she'd last seen her friend. It was all she could do to get the
words out, what with her stammering and sput­tering. Her heart was still racing.
"Didn't the bartender give you my message?" Darla asked. "Hank needed cigarettes. I told the bartender to tell you I
was going to the convenience store not far from here, and that I'd be right back. Only, I didn't know Hank was going to
hang around and look at dirty magazines."
"Would you please take me home?" Annie asked, re­alizing that she was trembling. "You're welcome to go back to
Ernie's and stay as long as you like, but I'm exhausted."
"Sure, honey. We can go."
"I'll walk back," Hank said, having come up in the meantime. He kissed Darla on the cheek. "I'll call you, babe."
Buster put his hand on Annie's shoulder. "I hope I didn't scare you, young lady. Sam and I are always cut­ting up."
"Actually, I think the whole scene was disgraceful," she said. "I hope you have your little notebook handy because you
need to file assault and battery charges."
Buster looked startled as he reached into his pocket. "Is this for real?"
"I'll let you decide," Annie told him. She balled her hand into a tight fist, swung around with all her might, and
slammed it into Sam Ballard's face. Sam, caught off guard, reeled back, lost his footing and sank to the ground.